Features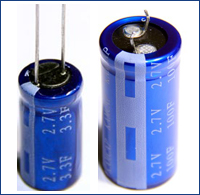 High energy, high power series
The capacity of 2.7V winding type series super capacitor is from 0.1F to 3000F.
3V series is available in temperatures ranging from -40 to +65 °C
Main Applications
0.1F~3000F 2.7V Ultra capacitor is widely in RAM, detonator, car recorder, smart meter and electric meter.
3.0V Ultra capacitor can be used in water meter, electricity meter, gas meter, controller, vacuum switch, digital camera, motor drive and clock circuit.