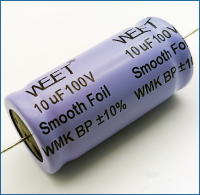 Low Dissipation Factor, MAX 3% at 1KHz
Specially produced for Cross-Over Networks with high fidelity audio system
The WMK is made with a smooth foil to allow for low loss.
Smooth electrolytic capacitors (ECap plain) are made from unetched and thus lower-loss films.
The smooth foil also provides better performance and sonic properties for audio application
Note 1:Other Dissipation Factor 3%, 4%, 6%, 7%, 8%, 9%, 10%, 12% are available on request.
Note 2:The sleeve (PET) color of the product differs from batch to batch, so there will be slight color difference. Thank you.